Back in November,
Penny
came from Toowoomba for a workshop, Metro Medallion. Her quilt, (and most of the people participating) used modern fabrics. I could not help myself, and used some red and black reproduction style fabrics, plus a cheddar and cream I already had. I thought it would look ok, and this week I managed to finish the top. The pattern has an extra little diamond shape that I did not include, but I am thinking I might applique this in place, where the cream background fabric meets. That looks like quite a BIG blank space.
These blocks are made with a tricky curved ruler from
Sew Kind of Wonderful
. There is another one I am making called Metro Rings, which is an updated version of the Double Wedding. Ring quilt. I am making mine with red and yellow 'cause I have so much of it. The pattern says you can use a Jelly Roll.
So far I have made one quarter of one "ring". The corner triangles will be turquoise and brown. I found these in my stash as well.
Geltwood Festival
28th March to the 6th April.
Also, back in stock is the
Karen Kay Buckley Perfect Thread Bag
. The price is $40, which does not include the threads......sorry. These are great for carrying your threads and other sewing bits and pieces in a tidy bundle.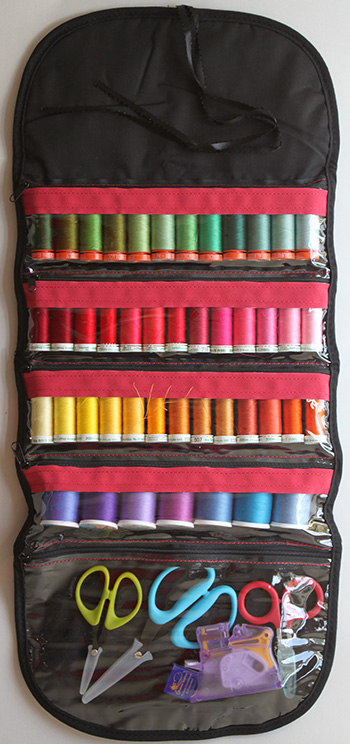 The come in a green leaf pattern, and bright multi print.